Currie Group, one of the leading suppliers of innovative print and finishing solutions in Australia and New Zealand, has partnered with renowned Pennsylvania-based post-press finishing industry pioneer, B&R Moll.
"With great pride and enthusiasm, Currie Group is now the exclusive representative of B&R Moll, Inc. in Australia and New Zealand. This collaboration brings together two powerhouses in the industry, combining our expertise, passion, and commitment to delivering cutting-edge solutions to our valued customers," Currie Group said, emphasising that this deal brings together cutting-edge technology and unparalleled service to deliver exceptional results and unlocks limitless possibilities in the world of printing and packaging.
Global excellence, local expertise
Currie Group understands the unique needs and challenges faced by the printing and packaging industry in Australia and New Zealand. With over 74 years of experience, the company has established itself as the go-to partner for businesses seeking unparalleled support and solutions.
The Moll family in the same respect, has had a rich legacy of innovation and a global reputation for its high-quality post press finishing equipment for over 40 years. Headquartered in Pennsylvania, US the company has a European full service and sales facility in the UK.
"By joining forces, Currie Group is bringing B&R Moll's world-class technology and solutions closer to your doorstep, providing you with access to the latest advancements and a comprehensive range of options for all your finishing requirements," Currie Group stated.
Unmatched solutions
"The partnership between Currie Group and B&R Moll opens a world of possibilities for businesses in Australia and New Zealand. Whether you're looking to enhance your finishing capabilities, improve efficiency, or explore new creative solutions, this joint expertise can empower users to achieve remarkable results.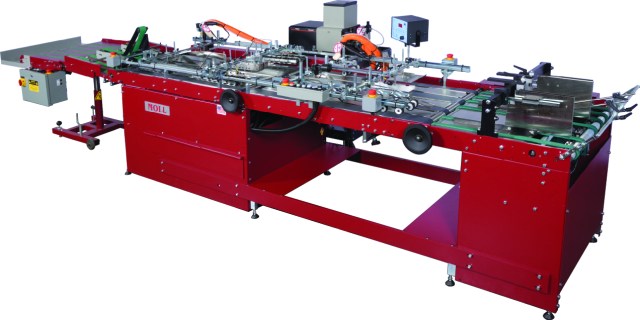 "B&R Moll's extensive equipment, which ranges from digital registering, nick-less cutting FlexCut rotary die cutters, versatile folder-gluers to advanced bindery systems, is designed to streamline operations and maximise productivity," Currie Group said.
"With the company's state-of-the-art technology, users can achieve precision and excellence in folding, gluing, die-cutting, and more."
Success is a priority
Currie Group said together with B&R Moll, the duo are more than just solution providers; they are dedicated partners invested in clients' successes. Their team of highly skilled professionals will work closely with clients, offering expert advice, tailored solutions, and comprehensive support.

"Together, we will help you revolutionise your printing and packaging processes, reduce costs, improve turnaround times, and elevate the quality of your finished products," Currie Group said.
"Your success is our driving force, and we are committed to going the extra mile to ensure your complete satisfaction."
Click here to contact Currie Group and access the B&R Moll enquiry form, and learn more about how this partnership can benefit your business.